3-Way Connector Feeding Tube In Nose
Product Detail
FAQ
Product Tags
Brief introduction
The 3-way naso gastric tube is a medical device product improved and upgraded on the traditional one way connector gastric tube. It is inserted through the nostril, through the pharynx, through the esophagus to the stomach, and once placed into the tube to solve the problems of gastrointestinal irrigation, nutrition, and decompression. In order to avoid the damage caused by repeated placement of traditional NG Feeding tube, avoid cross infection and reduce patient suffering.
Application:
1. Gastric decompression: Gastric decompression decompression is a commonly used nursing operation technique such as thoracoabdominal surgery and digestive system diseases. The gas and contents of the gastrointestinal tract are sucked out through the gastric tube, which is beneficial to the operation and Postoperative recovery.
2. Nasal feeding: Nasogastric gavage, or gastrointestinal nutrition, is clinically used for patients who cannot eat normally.
3. Gastric lavage: Stomach lavage refers to the operation of flushing out the contents of the stomach, such as food poisoning and drug poisoning.
Specification
Product

Materil

Size

Tube OD

Length

End

Remark

3-way connector feeding tube in nose/naso gastric tube

PU
Silicone
PVC

4Fr

1.1-1.5

400~1500mm

Close end

Guide wire optional,

Customized available

5Fr

1.5-1.9

6Fr

1.8-2.2

8Fr

2.5-2.9

10Fr

3.0-3.6

12Fr

3.7-4.3

14Fr

4.4-5.0

16Fr

5.0-5.6

18Fr

5.7-6.3

20Fr

6.4-7.0
Features:
1. A variety of materials and specifications to choose from, customers can choose three materials: PU / PVC / SILICONE.
2. 3-way connector reduces cross-infection and operational errors
3. One nasogastric tube can realize feeding, gastric decompression, gastric administration, gastric flushing and other functions at the same time, which can reduce the damage of gastric mucosa caused by repeated placement
4. There is developing line on the NG tube, the position of the nasogastric tube can be easily determined under X-ray irradiation
5. Stainless steel guide wire available for easy intubation
6. 1cm interval scale for easy observation of intubation position of NG tubes for feeding
7. The effect of decompression drainage is better than that of ordinary gastric tube, and the clinical application effect is good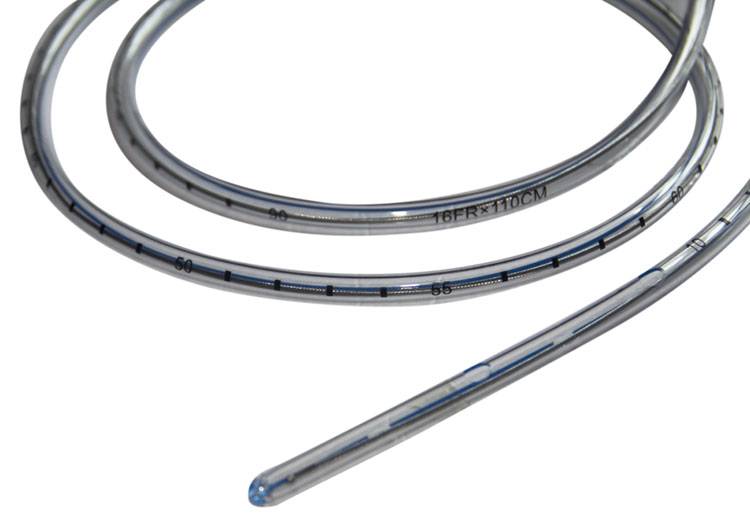 ---
---
Send your message to us:
Write your message here and send it to us