1-Way Connector NG Feeding Tubes Naso Gastric Tubes
Product Detail
FAQ
Product Tags
Brief introduction
Nasogastric tube is a type of nutrition tube that enters through the nasal cavity, through the pharynx, and through the esophagus. It is used to help patients who cannot swallow to transport necessary water and food under special circumstances, or to decompress the stomach Wait for treatment.
Application:
Nasal gastric tubes is used for or clinical gastric decompression, Gastric nutrition supply, widely used in Gastroenterology and Neurology
Specification
Product

Materil

Group

Size

Tube OD

Length

End

Remark

NG feeding tubes/ Naso gastric tubes

PU
Silicone
PVC

Children

4Fr

1.1-1.5

40~100mm

Close end

Guide wire optional

5Fr

1.5-1.9

6Fr

1.8-2.2

8Fr

2.5-2.9

10Fr

3.0-3.6

Adult

12Fr

3.7-4.3

100~150mm

14Fr

4.4-5.0

16Fr

5.0-5.6

18Fr

5.7-6.3

20Fr

6.4-7.0
Features:
1. Advanced imported PU material processing, the catheter has good flexibility, the intubation and indwelling process is more comfortable, safe and reliable
2.Damage-free head end processing for smoother insertion
3. Special connector design, which is completely distinguished from the infusion connector, reduces the risk of clinical mis-infusion, and is safer and more reliable
4. Tube with blue radiography line to confirm the position of catheter insertion under X-ray
5. Can be left in the body for 30 days
6. 1cm interval scale for more accurate positioning
7. Guide wire optional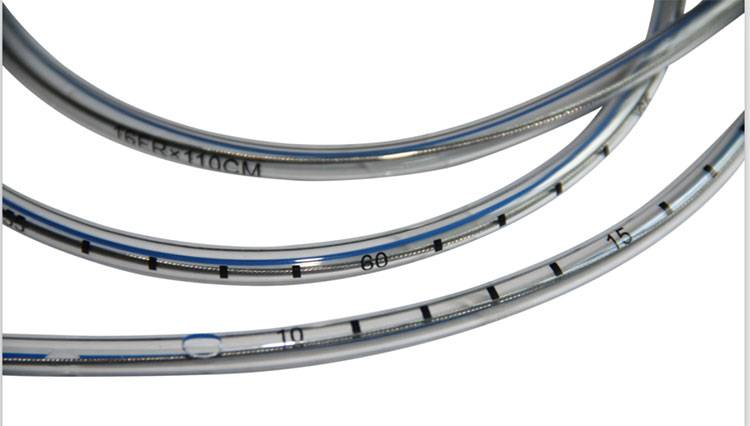 FAQ
1. Which certifications you have for 2-way NG feeding tubes?
CE/ISO13485/CFDA
2. Can you accept OEM for your NG tube in nose?
Yes, We accept OEM, besides also supply ODM/OBL
3. Do you have e-catalogue for your 2-way nasal gastric tube?
Yes, we can send you by email/whatsapp/wehcat
4. Is there guide wire with your Naso gastric tube?
Yes, it with guide wire, and we also supply the one without guide wire
5. Do you supply PVC feeding tubes?
We can supply it, besides we also supply PU and Silicone tubes
6. Do you accept customized for feeding tubes?
Yes, we are able to supply it according your requirements
7. As there are so many manufacturers for feeding tubes in China, what is your advantage?
We have more than 10 years experience in manufacture and supply feeding tubes.
And we has get CE,ISO13485 and CFDA certification for nasogastric tubes.
We not only supply foreign market, also supply NG tubes in domestic market, the NMPA supervise our production, quality control and clinical application.
8. Does the valve check connectors can be used for stomach medicine.
Yes, it can be. It is Multi function connectors.
---
Previous:
3-Way Connector Feeding Tube In Nose
---
Send your message to us:
Write your message here and send it to us